Babies Of The Arts
Fall Class Schedule
Ramblin' Dan's Freewheelin' Band
At a Ramblin' Dan music class, you'll hear everything from Rock 'n' Roll, Reggae, Funk, Hip Hop, Folk and Bluegrass. The music pulls from pop hits old and new, fun versions of well known kids' songs and Ramblin' Dan's original kids' music. Using the music to lead the way, your bandleader will help your kids jam along on instruments, use various props for activities, read song-based books, learn sign language, do animal-play, and of course clap, dance and sing along. For a ONE-OF-A-KIND musical experience for your child, come jam in Ramblin' Dan's Freewheelin' Band!
GREENWICH VILLAGE (207 THOMPSON STREET)
Mondays 11:00-11:45 With Band Leader Sean
No Class: Oct. 21st
The Sensory Kitchen provides babies and caregivers with an opportunity to freely and safely engage in messy, open-ended play together. Weekly provocations using coconut flour, water, real kitchen things and our all natural dough, inspire children to play, create and explore. We engage families in "baby led play" encouraging them to focus on the process of reflection and discovery through joyful, sensory experience.
CHELSEA CAMPUS (121 WEST 19TH STREET)
Mondays 11:15-12:00 (ages 6 months to 2.5 years)

No Class: Oct. 21st, Oct. 22nd
Are you ready to JAM? Say OH YEAH! Jam with Jamie's music program is loved nationwide and has been a favorite of Time Out NY Kids for over a decade. Join us for 45-minutes of interactive music & movement, formatted using age-appropriate, research-proven methods to further develop a child's relationship to music. Get ready for an upbeat jam session with props & instruments, sing-a-long, dancing, and more! Because life's a JAM!
GREENWICH VILLAGE CAMPUS (207 THOMPSON STREET)
Wednesdays 9:15-10:00 (0-3 years)
No Class: Oct. 21st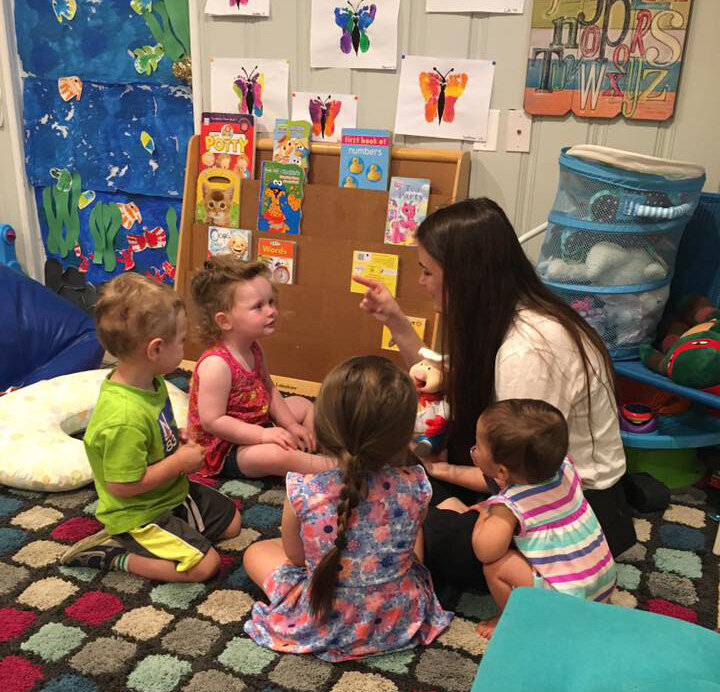 ASL Discoveries is a fun and interactive, academic, language and music-based program all rolled into one! In the class for ages 0-12 months, children will strengthen their receptive and pre-linguistic skills. This takes place not only visually with American Sign Language and facial expressions, but also auditorily through our music! Children's fine motor skills are also highlighted with bonding techniques such as hand-over-hand. In the class for ages 13-36 months, the program dives deeper and becomes even more interactive as children are typically able to engage in some level of discourse. This is all done while learning the importance of acceptance and inclusion for all. With ASL Discoveries children LOVE the entertainment while parents APPRECIATE the education!
GREENWICH VILLAGE CAMPUS (207 THOMPSON STREET)
Wednesdays 1:30-2:15 (0-12 months)
CHELSEA CAMPUS
Wednesdays 3:00-3:45 (13-36 months)
GREENWICH VILLAGE (207 Thompson Street)
KALEIDOSCOPE
Enjoy movement, dance, stories, puppetry and more with the award-winning company for the young, Treehouse Shakers. Parents and caregivers are encouraged to participate to support positive shared playful experience that they can continue to explore at home.

Thursdays 9:30-10:15 for ages 1-3 years
CHELSEA (121 West 19th Street)
BUTTERFLY
The Butterfly class is designed to explore the play space in a dynamic hands-on approach, while enjoying music, movement, visuals and explore artist-led activities. Participants will also have the opportunity to explore performance elements from Treehouse Shakers' upcoming work, Flutter.

Wednesdays 9:30-10:15 for ages 3 months to 24 months
No class: Nov. 28th
As your child crawls and walks they will discover the world around them in our state of the art gym, encouraging children to learn about balance, coordination, and the cause and effect of materials.
GREENWICH VILLAGE CAMPUS (207 THOMPSON STREET)
Thursday 1:30-2:15 ( Ages 3 month – 3.5 years )
No Class: Nov. 28th
Join us for an exciting musical adventure where you and your child become passengers on this amazing Spanish trip. This journey will take you through the most extraordinary times: tempo, rhythm, word recognition, games and sound identification. We are going to learn about other cultures and meet special puppet friends along the way. We strive to make learning FUN so we want all our students to feel free to play, explore and discover the sound of this new language.
GREENWICH VILLAGE CAMPUS (207 THOMPSON STREET)
Tuesdays 10:45-11:30 - No class Oct 22 (Ages 6-24 months)
CHELSEA CAMPUS (121 WEST 19TH STREET)
Tuesdays from 9:15-10:00 beginning Oct. 29 (Ages 6-24 months)

Join us to prepare for Shabbat as we make challah, sing songs, and have a special story time. Your child will take a delicious piece of challah to bake at home and share with family.
GREENWICH VILLAGE CAMPUS (207 THOMPSON STREET)
Friday 11:45-12:30 (Ages 10 months – 3.5 years)
No Class: Nov. 29th
Classes Run For 45 Minutes, Parent Or Caregiver Must Be Present.
$35 Per Class
RSVP required 24 Hours In Advance.
For questions about classes or registrations, email Shira at sharary@nycpreschool.org